2017-12-01 16:27:54
It seems Pixelmator Pro has fewer text gradients than Pixelmator. Or am I missing something.?
Left: Pixelmator; right: Pro.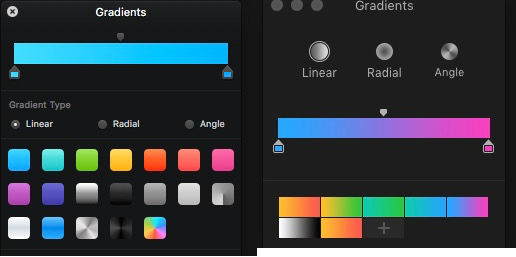 2018-01-05 21:20:59
There seem to be a problem with the gradients (Pixelmator Pro): when I try to create a new gradient, sometimes it works, sometimes it doesn't.

This is what I do: I click on the left coloured slider (let's say the blue one one the pic above). The colour window appears and I choose a new colour. Same with the right slider.

Usually, after opening Pixelmator Pro, it works only once. Then, when applying the exact same process, I can't change the colours any more.

Am I doing something wrong? Any clue?

Thanks in advance for helping !
2018-01-06 13:47:36
My guess would be that you are trying to change color without activating thumb
(a control, which you click to change color)
first - this might happen if you change tools while Colors window is still open. Turning off existing Colors window and activating thumb again should sort this out :)
To avoid these tricky situations, I would suggest closing Colors window every time you have finished picking color.

2018-02-01 18:09:44
I was thinking the same thing
I have created around 30 gradients in Pixelmator......Is there a way of importing these into Pixelmator Pro?
Also, Darius, the file for the gradients that you posted a few weeks ago won't open (see screenshot)

2018-02-02 11:19:02
Thanks for the file works fine... just had to open it - go to the gradient section - and drop it in...
2018-02-02 14:06:30
P.S. For now, you need to drag that file directly into the Gradients palette. Dragging single presets onto the icon should now work and we'll be adding a fix for adding preset collections by dragging and dropping them onto the icon, as well.

2018-02-08 11:28:02
One thing to point out is that if you open Pixelmator files with Pixelmator Pro and which include gradients created in Pixelmator they can easily be added to Pro by clicking on the + in the gradients palette. I've now moved pretty much all of my gradients from Pixelmator into PPro